Visualize Customer Account Health
Analyze, Monitor, and Prioritize Customers
The TIBCO® Customer Health Dashboard provides a holistic 360-degree view of account information by scoring and identifying accounts that are at risk and in good standing. Review usage and deployment status, align organizational resources, drive expansion and rep accountability. Utilizing TIBCO Spotfire® Data Visualization software, you can filter, rank, and reference graphs, maps, and tables to increase sales and make it easier to market your business.
Score Customer Health
Scoring is segmented into five categories due to trends from products, sales history, engagement, product usage, and annual recurring revenue.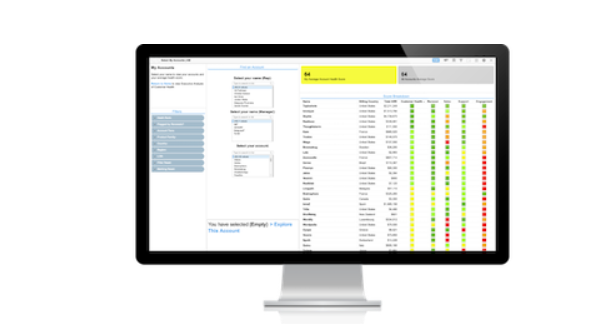 Aggregate Data from Multiple Systems
Gather support, activity, sales, usage data, and more directly from your CRM
Account Drill Down
The Customer Health Dashboard provides immediate analysis to hit the ground running and enables you to look at your accounts on global scale, or drill into any individual customer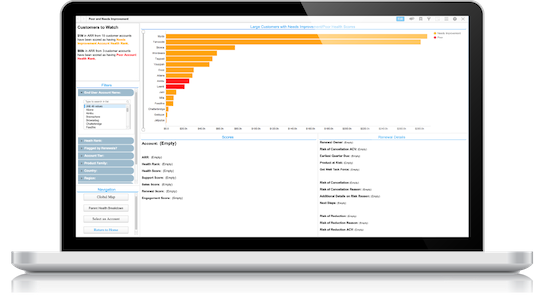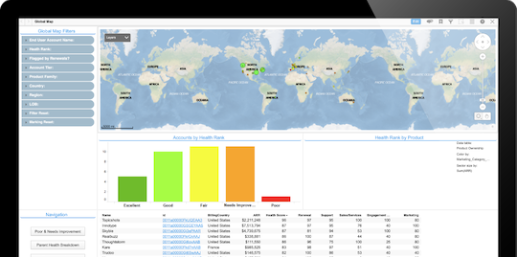 Choose a Pre-Built or a Customized Solution
Implement in a few days--TIBCO has you covered

Increase customer engagement leading to account expansion


Drive expansion & rep accountability

Find churn trends via proactive risk management

Scale by customer region, size, and overall health

Align organizational resources

Use an in-depth view of customer data to increase sales and make it easier to market your business